HOLY WEEK + EASTER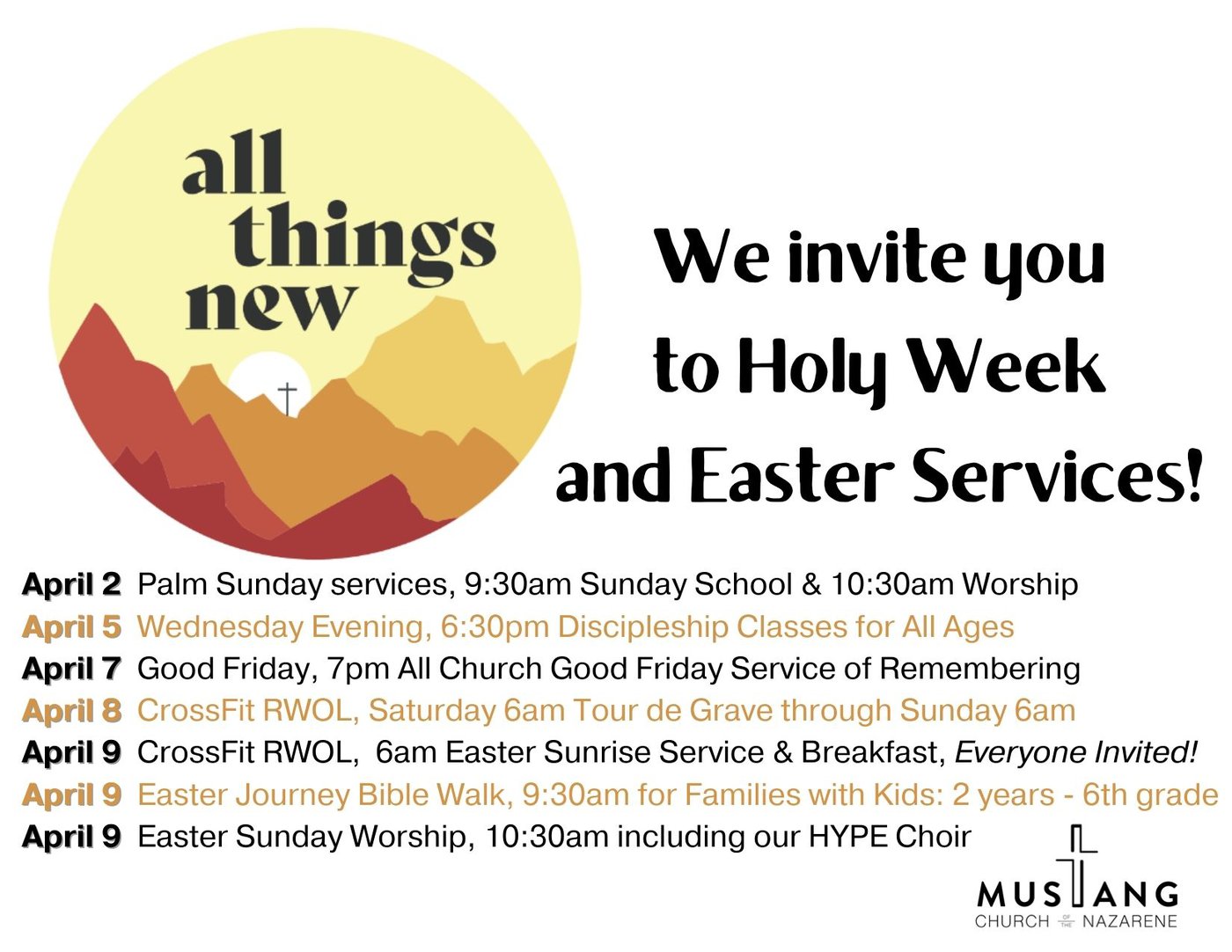 April 2, 2023
Worship Service Order
Welcome
Call to Worship
LION
Scripture Reading John 12:12-16
Hosanna
King of My Heart
Pastoral Prayer
Message Pastor Nate
Response
Nothing But the Blood
Weekly Schedule
Sunday
NazStudents Worship Practice 5-6:30pm
Wednesday
Fellowship Breakfast: 9am, The Olde Orchard, Yukon
Kids: 6:30pm ~ Route 252, PreK - Grade 6, Upstairs
Students: 6:30pm ~ The Porch, Grades 7 - 12, The Porch (308)
GroupLife, 6:30pm to 7:30pm:
Room 301 ~ Thriving in Babylon, Book of Daniel, Pastor Steve
Room 302 ~ Ladies' "Uninvited: Living Loved...", Robyn B.
Room 304 ~ Men's Bible Study "Discipled by Jesus", Steve D.
Sanctuary ~ Creative Team Small Group, Pastor BJ & Jaley
Thursday
Women's Bible Study: 6:30pm, Room 117 with Dawn S.
Men's Basketball (18+): 7pm in the Gym with Guy D.
Friday
Lunch: 12pm ~ Ladies Meet at Applebee's
12pm ~ Men Meet at Billy Sim's
GameNight: 5pm ~ Community Room, Kingdom Builders
Looking Ahead
April 2 ~ Palm Sunday
April 5 ~ NazStudents 1st Wed. Breakfast, 6-8am, Community Rm
April 5 ~ Work & Witness Dinner & Dessert Auction Fundraiser, 5pm in the Gym
WEDNESDAY NIGHT: Everyone Invited!!!
Dinner suggested donation $5/person, $20/family max
THURSDAY April 6 ~ MustangNaz Men 18+ Basketball, 7pm
April 7 ~ Good Friday, 7pm All Church Good Friday Service of Remembering
April 8 ~ Tour de Grave, CrossFit RWOL, Saturday 6am through Sunday 6am
April 9 ~ Easter Sunrise Service & Breakfast, CrossFit RWOL, 6am, Everyone Invited
April 9 ~ (No Sunday School)
April 9 ~ Easter Journey Bible Walk, 9:30am for Families with Kids: 2 years - 6th Grade, East Wing
April 9 ~ Easter Sunday Worship, 10:30am including our HYPE Choir (see Pastor BJ on Wednesday night for practice)
April 13 ~ Naz 31:13 Creative Arts Fellowship, 10am-2pm, Rm 301
April 15 ~ Food Pantry, 1-3pm
April 18 ~ New: Tuesdays 10am, Women's Bible Study, "Trustworthy" @ Jo Skelly's house
April 19 ~ 6:30pm, New on Wednesdays Women's Study "Trustworthy" Room 303